---
Bowen Lodge October 19, 2017 "Walleye Action Good On Cutfoot Sioux" Fall Wrap Up
The leaves are dropping, the docks are pulled out of the lake and for us, the sounds of dogs rustling through Grouse cover have replaced the sounds of outboard engines.
Even though we've got the fishing cabins buttoned down for the winter, we've noticed that there are still some anglers on the lake and one of them has an encouaraging report for walleye anglers who haven't put their boats to bed for winter.
Jeff Sundin Wrote; "Familiar territory for thousands of anglers, Cutfoot Sioux has of late, been living up to its reputation as a reliable fall walleye destination. Recently, the fishing action has proven that she's still got what it takes to stir up a smile for fall walleye fishermen.
Surface temperatures on Wednesday were ..." Read >> Cutfoot Sioux Pre-Turnover Walleye Action
---
If you've never visited Bowen Lodge, stop in while you're in the area and let us introduce ourselves. We would love to be your next fishing destination, so we'd like to show you around the resort. Once you pay us a visit, we're sure that you'll understand why we say;
"At Bowen Lodge, You Are Part Of Our Family!"
See the resort >>
Bowen Lodge
or click here for >>
The Bowen Lodge Story
---
Bowen Lodge Lake Winnie Cutfoot Sioux September 28, 2017 "Falling Temperatures Triggering Pre-Turnover Conditions"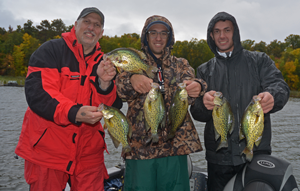 On Wednesday, 59.5 degrees was the surface temperature recorded in Little Cutfoot Sioux. That's the first reading that's fallen below 60 degrees, as far as we know. Surface temperature readings from a variety of points around Cutfoot Sioux and Lake Winnie range between 60 and 62 degrees.
Water is becoming clearer by the day, especially on the big lake, so watch the weather is crucial in determining the best spots to fish. For example, during the day long soaking rain that came on Tuesday, reports about great Perch, Pike and Crappie fishing were numerous. Not only were the fish were active, but the size structure was excellent. Walleye fishing was not hot and heavy, but many of our guests were catching fish and most reported getting enough for their family fish fries.
On Wednesday, the rain was over, the sun was shining and even under a moderate chop, there were noticeable declines in both fishing action and size structures of fish caught. The relationship between sunny days and gin clear water has become well known, nobody wants to get trapped in the wrong spot under these conditions. The best suggestion we can offer is to try and formulate a game plan that matches the weather conditions. Use sunshine and calm conditions as a guideline to target fish that inhabit deeper water, preferably in Cutfoot, Little Cutfoot. If you're going to fish the big lake, look for areas where inflowing water stains the clarity of water, this helps make a difference.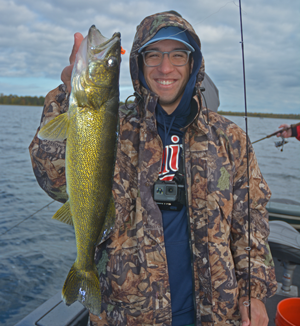 Walleye patterns have varied this week, but for many, fall is synonymous with jig and minnow presentations. So the good news for jigging fans is that fish are responding to jig and minnow presentations. Lindy rigging with large minnows is effective now too and so is bobber fishing, especially during the evening twilight. When slip-floating, use larger than average baits and make sure that they are lively. Large Rainbow Chubs, Large Golden Shiners or medium size Creek Chubs will work; so will night crawlers. Leeches might work too, but don't depend on finding a supply in the area, most baits dealers do not have them in stock.  
Anglers who have fished here for a long time have become accustomed to fish inhabiting the shallow water breaklines and weed edges.  Most of their fishing time has been spent targeting these areas and over the years shallow water has produce most of the fish that they've bagged.
These days, diversifying will help you locate more fish. Check deep points in the 20 to 30 foot range, watch your electronics as you move across soft bottom flats in the 16 to 28 foot range and pay particular attention to weeds, especially Cabbage beds, these tend to stay green longer than most other plants and will remain attractive to Walleyes, even after the fall turnover.
It may be coincidence, or there may be a pattern developing on the big lake. Jeff Sundin has been taking some folks onto Winnie where they have targeted Perch. Three times this week, their search has taken them onto some of the lakes popular deep bars. While following the sharper breaklines, fishing for Perch, Walleyes have jumped onto the lines instead. Bena Bar, Sugar Bar and Center Bar have all  shown promise as possible Walleye locations for the upcoming weekend.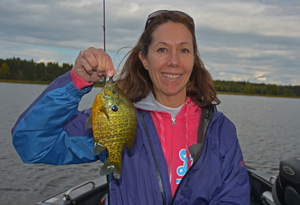 While you're jig fishing the bars, both Northern Pike and Perch will be found along the way. There will be numerous areas where the size structure of Perch appears small, but there are larger fish present. Folks who have been persistent have been rewarded with good creels of Perch in the 10 to 12 inch range.
Crappies and Sunfish have begun shifting toward open, mid-lake water. While there are still fish relating to steep shoreline breaks, it is getting easier to find schools of fish roaming open water. Key depths for Crappie are 26 to 30 feet on Cutfoot, 15 to 17 feet on Little Cutfoot. Sunfish tend to run shallower and can be found in 22 to 26 feet on Cutfoot, while 14 to 15 feet has shown the most promise on Little Cutfoot.
As cool breezes usher in fall, we'll be turning our attention toward Walleyes and migration patterns. With surface temperatures falling below 60 degrees, we're on the verge of a pre-turnover uptick in the Walleye action. Check back in after the weekend, and we'll update you on conditions and forecasts for early October. Don't put your boat away yet, the best is still to come.
---
Bowen Lodge Lake Winnie Cutfoot Sioux September 20, 2017 "Hot Perch Good Crappie and Improving Walleye Action"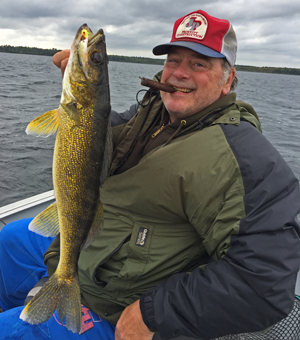 Surface water temperatures on Cutfoot Sioux are 63 to 64 degrees and on Lake Winnie, 61-62 degrees. The cooler water temperatures are moving Walleyes in the direction of a decent fall bite, but right now the action is on and off, depending on the weather of the day.
Earlier this week, we overheard a conversation about Walleye presentations. One of the anglers said; "There is no jig and minnow bite, the only game in town is trolling spinners tipped with night crawlers." While this may have been true throughout most of mid-summer, it is changing right now and there are a wider variety of presentations that are effective for catching Walleye.
Over the past week, one of the local guides has been in and out of the resort a lot. By Wednesday, his customers have fished nearly all 4 shores of Winnie and a good portion of both Cutfoot and Little Cutfoot. Asking for words of wisdom about fishing prospects for the upcoming weekend, he said; "There's a lot going on out there right now, Panfish and Perch are definitely on the prowl, Northern Pike action is fairly good too and the Walleye fishing has begun to get more reliable."
On Tuesday, there were Walleyes spread along the Bena Bar and they were fairly easy to graph. On one short drift of an inside corner, Kyle Reynolds of Cedar Rapids Iowa caught the prize of his lifetime using a ¼ ounce jig tipped with a large Golden Shiner. The jig and minnow combo produce some Northern Pike too, so this could be a good way to produce some action, while at the same time, searching for Walleye.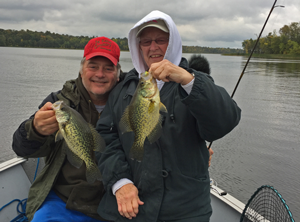 By Wednesday, Kyle and Karen Reynolds were fishing in Cutfoot Sioux and on another short drift down the weedline, picked up nice Walleye using a 1/16 ounce jig tipped with ½ of a night crawler. The fish were holding close to the weed edges in about 10 feet of water and they were mixed with Pike, Bass and Perch that were sharing the same weed cover.
The upshot isn't that the Walleye bite is hot and heavy, but there are enough active fish to make the fishing interesting and if you combine Walleye with Panfish and Perch fishing, then you are almost certain to find some action this weekend.
Perch fishing has been very good on the big lake, so good in fact that you can stop almost anywhere on the lakes expansive flats and expect to encounter at least some fish. Many small schools of Perch are roaming the flats in water depths of 12 to 16 feet and there are other schools of fish holding in shallow weeds as well.
Don't expect to find one giant school of Jumbos; you will need to do some sorting. But customers Keith and Diane Eberhardt spent their afternoon "weeding through" schools of Perch and assembled 30 good keepers that were 10 to 11 inches in size. On Tuesday, the aforementioned Reynolds' drifted the flats and picked up a couple dozen jumbos. "There was a lot of action out there, dozens of fish and sizes were all over the map, but we managed to get some really nice ones", Reynolds said.
Jig and minnow combinations are the absolute best for Perch, and because you'll want to encourage the larger fish to strike, the minnows should be large ones. Golden Shiners, Rainbows or large Fatheads will all work and don't worry about thinking that your minnow is too large for perch; we saw one 10 inch fish caught this week on a 7 inch Redtail while fishing for Walleye; the Perch are hungry and aggressive.
Crappie fishing continues to hold its own on both Cutfoot and Little Cutfoot. There are a lot of folks fishing for deep water fish in the classic fall spots. Don't overlook the weeds though; there are still lots of fish lingering in heavy weed cover. Soon we will get our first frost, which will change the pattern. But for now, weeds are green and lush, fish of all shapes and sizes continue to relate to that Oxygen rich environment.

Bowen Lodge Fishing Video From The Pros
Be sure to check our videos section too! We have compiled an assortement of fast moving videos with fishing tips and secrets from area fishing pros that will help you be more productive on your next visit to Bowen Lodge.
<< Click the image for Videos
---
Bowen Lodge Lake Winnie Cutfoot Sioux September 7, 2017 "Cold Front Triggers Early Fall Movements"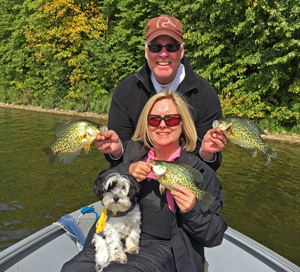 During late summer, cold fronts give fish the shivers and cause anglers to work harder and smarter, for less. But as fall approaches, cold fronts affect fishing in a positive way and serious anglers actually look forward to falling water temperatures.
One of the best ways to gauge the progress of fall migrations is to follow the Crappies.
Large patches of vegetation have provided shallow water sanctuary for most of the summer. But as shallow water plants mature and die off, the once Oxygen rich environment become less inhabitable. Cold fronts encourage falling surface temperatures and this helps speed the process. Before long, both baitfish and gamefish alike are forced away from the shallows and move into open water along steep breaklines.
The easily ambushed supply of fresh food begins triggering feeding sessions and Crappies are the first fish to show up for the party.
One such cold front blew into the area this week and forced an early movement of Crappies.
Rand and Kendra Olson spent a day on the lake with one of the areas popular guides on Wednesday. They followed the steep shoreline breaks and located several schools of fish; some were more active than others. But there were at least some fish caught at every stop.
The most encouraging discovery was one large school of what were apparently "fresh fish". These Crappies had not been in the area this weekend and have shown up within the past day or two. It's a lot more fun when you have the chance to fish a school of Crappies before they have been picked over, and that's what this crew enjoyed on this trip.
Presentations varied, Rand enjoyed using a small jigging Rapala to fool his fish, Kendra preferred the more traditional Lindy Live Bait Jig tipped with a minnow and both methods were effective. There were fish caught on a #6 Ice Worm tipped with a gulp minnow as well.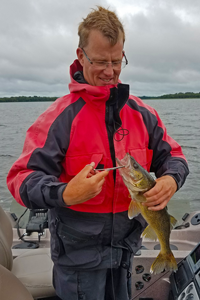 It's likely that your favorite presentation will work; experiment until you find a favorite.
With surface water temperatures now at 65 degrees Walleye migrations will begin starting up too. In fact, there are some early movements beginning now, especially for anglers fishing the prime time periods during early morning and late evening.
One of the anglers who have turned in consistent results this season is our friend Mark Wilson. Mark spends a lot of time at Bowen's and most days, he's the one guy in camp who's most likely to have found fish.
We've been thinking about the best single word to describe Mark and his approach to Walleye fishing on Winnie and Cutfoot. Innovative, that might be it. Adaptable, yes that could be the right word. Optimistic, maybe that's the one. We're still working on the best one, but an observation made by a local guide is in the running too; "Persistent".
Persistence is definitely one trait that separates Mark from a lot of anglers. In his own words; "One reason I catch fish is because I'm here." When you think about it, he's right; the best way to catch a fish is to be on the water, that's where you're going to learn what's going on.
Last weekend Mark, along with his brother in law Rich Riemersma fished together on Cutfoot and Winnie. They were able to rig crawlers and pull spinners, catching some walleyes both days. Persistence paid off and Rich was able to return home with a limit of Walleyes for the effort.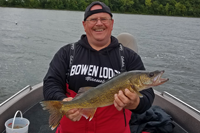 Mark said; "We moved around a lot and worked for each fish that we caught. The range of depth that we caught fish in was 11 to 22 feet. Most of the fish we caught we're between 13 to 14 feet deep.
The Algae bloom looks like it is done and this made it harder to find concentrated fish in easier to fish locations. The water was very clear everywhere we went. I was surprised when we went out on the big lake the first time in 12 days for myself, and saw the changes in water clarity. Because of this we focused more on cabbage instead of Rock structure.
I will be switching to minnows and using them more the next time I head out. I believe we could have boated more if I had brought some small golden shiners."
Mark sets an example for all of us; he's up-beat, courteous and always willing to share a helpful tip with our guests. We are happy to have Mark around and even happier to see his persistence paying off.
Fall fishing has always been the highlight of any season and we're looking forward to the next few weeks. So stay tuned, we'll keep you posted as the water temperatures fall and the action heats up!
---
Bowen Lodge Lake Winnibigoshish and Cutfoot Sioux Fishing Report August 2, 2017
We've been looking through some of the mid-summer fishing reports from the past few summers. At the same time, we're comparing notes from some of the better anglers who have been fishing Lake Winnie this summer and we can't help but wonder; are the "Dog Days" of summer becoming the prime time to fish for Walleyes on Winnibigoshish?
Maybe it takes longer for Winnie's clearing water to warm up, maybe it's because algae blooms help darken preferred walleye haunts, maybe it's just coincidence? But, no matter the reason, walleye anglers are producing more consistent catches now, during mid-summer.
One departure from recent summers was the lake's resistance to warming up this season. Low water reduced runoff into the big lake, and cooler than usual temperatures slowed the warming process too. We think that the delay of warming water is one reason why seasonal movements were also delayed this season.
F
or example, mid-lake humps that typically produce good walleye action during early to mid-June, are providing their best results now.  Many of our guests are returning to the dock with reports of good mid-lake walleye fishing. One of our guides, Dale Anderson has been turning in consistent double digit catch rates on almost every trip. It is not uncommon for he and his customers to report catching 20, 25 even 30 fish on a typical outing.
Fish in the protected slot make up the bulk of each day's catch, but they are bringing in eaters too. We've watched Dale clean somewhere between 6 to 12 "eaters" on most days; sometimes more, sometimes less, but there are almost always enough fish for a meal.
Anderson has been fishing with Lindy Rigs and night crawlers on "the humps"; jumping from one to another, searching for schools of fish. "If you keep moving, looking at as many spots as possible, you are going to see fish on these structures"; says Anderson. Likewise, if you present your bait to enough fish, some of them will bite, even during the middle of the day.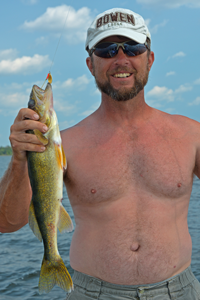 Using healthy, active night crawlers is important and a key to Anderson's presentation has been to inject a small bubble of air into the night crawlers. The easy way to do this is with a "worm blower", available at most bait shops, including ours at the lodge. After injecting them, the night crawlers float and that benefits you in two ways; it allows you to fish without picking up snails, moss and other debris on the bottom. More importantly though is that it allows you to keep your bait in the strike zone, a couple of feet above the bottom, where Walleyes can see it.
Another example of our delayed warm up theory is that weed beds, typically reliable during July, are just now becoming populated with fish. The "spinner bite" that has become popular with our mid-summer guests is just now beginning to produce fish in good numbers.
On Sunday, our guests Bob Slager, and his son-in-law Joe fished with another local guide, Jeff Sundin. Sundin was aware of the mid-lake bite, but decided not to go that route. Instead, he decided to follow up on a tip we gave him a tip about fish moving into the weeds.
"Finding the fish didn't come instantly, but after searching the weeds at trolling speed for an hour, we did find them. They were holding along the outside edges of cabbage weeds in 12 feet of water, pretty close to where Bill said that we'd find 'em."; Sundin said. The crew boated somewhere around 20 Walleyes 1/3 of them were fish in the protected slot, 7 of them were good keepers and the rest were small, ranging between 12 and 13 inches.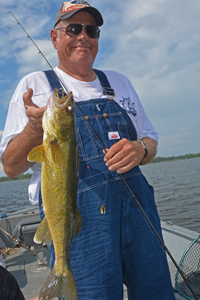 Sundin's preferred presentation is a Little Joe Spinner that features a #3 Indiana blade and a 2/0 Aberdeen tipped with ½ of a night crawler and hook trolled behind a bullet sinker. The weight of the sinker varies according to the water depth; on Sunday the crew used the most common ones, 3/16 ounce weights to achieve the correct depth. Trolling speeds of 1.3 to 1.4 MPH are a little faster than usual, but the water is so warm right now that fish want to see a faster presentation.
Walleyes are not the only fish that respond to warm water by feeding aggressively; so do small Perch. Their metabolism is so high that they feel obliged to eat everything in sight. You could tip your spinners with fatheads instead of night crawlers and that will reduce the amount of strikes by small Perch.
Sundin says; admittedly, there are going to be a lot of small Perch picking at the worms, but I really think that using crawlers tips the odds in favor of catching a few more Walleyes. So despite being assaulted by the small fish, we stick with the crawlers."
One important tip is to realize the difference between the picky, light weight strikes of these little perch vs the steady, heavy pull down that larger fish,Walleye in particular will give you. "As hard as it is, shrug off those picky little bites and avoid your urge to try and set the hook. You'll save a ton of bait by ignoring those little ones and your offering will be in the water longer, providing Walleyes more opportunity to catch up to it."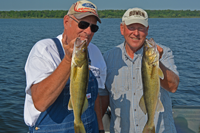 Finally, one more example that lends credence to our delayed warm up theory is that Northern Pike have not yet begun to inhabit most of the deep weed beds. That's because they have all of the food they need in deep water and they like it out there. Since there's not any significant decline in Oxygen levels out deep, they can avoid moving back to the shoreline, at least for now.
What really attracts large numbers of Pike to weeds in Winnie is when their preferred food, Tulibee begin staging along the outer edges of deep weeds. The movement is caused by a combination of factors, but one key is stagnating water.
Warm water encourages heavy algae blooms and creates a thermocline too, a temperature barrier between warm surface water and cooler water that lies below it. As Oxygen levels are reduced, fish that prefer deeper, cooler water are forced to move toward the Oxygen rich weed beds. The more heavily they populate the weeds, the better the Pike action will become.
On the Panfish front, developments are less definable. We appear to be some distance away from the start of fall patterns and there are no reports about good daytime fishing for Crappies.
Although, nobody has been bragging about fantastic Panfish catches, take care not to assume that this means that they aren't active. Fishing pressure has been very light and for many, the beach has been more attractive than the fishing boat, especially during mid-day. Ironically, the same hot weather that makes the beach so attractive is also the catalyst for great Bluegill fishing and odds are good that there's a bite going on, if you can find it.
Some of our guests are encountering Crappies along the weed edges, primarily during the evening, just before sunset. Bluegill anglers are finding some fish in the weeds too, and weeds should be your focus for the next couple of weeks.
---
Bowen Lodge Lake Winnibigoshish and Cutfoot Sioux Fishing Report July 17, 2017
Admittedly, it's been a struggle to find consistent action on Winnibigoshish in recent weeks, but we are seeing positive indicators of improvement. Surface temperatures are warmer, over 70 degrees in most areas and there's a mild algae bloom in the water.
Walleye fishing on the big lake has improved, but it takes determination to land on the right spot. "Sometimes you just have to get lucky" Dale Anderson said after his fishing trip on Sunday. "We found one good school of fish on a mid-lake hump in the morning; they were on top of the bar and feeding."
That's the secret, if you're going to fish Walleyes on mid-lake structure, be persistent and keep searching for fish until your electronics reveal an active school of fish. There are times when anglers find fish resting off the edges of main lake structure and occasionally a few of them can be enticed to strike. But when fish are spotted on top of the bars, they are there to feed and you can catch them much more easily.
"It can seem like a waste of time, moving from spot to spot, looking for a school of fish without dropping a line. But spending 5 hours searching to get 3 hours of catching is a lot better than spending 8 hours fishing on old favorite spots to catch nothing." The point Jeff Sundin is making is an important one, and its one key to unlocking the secrets of the "New Winnie".
We are creatures of habit and leaving behind favorite fishing spots isn't easy. But for a fish, it is not a hard habit to break, not at all.  Just because a fishing spot used to be good, doesn't mean that the fish are obligated to be there every year. And if they are not there, then we shouldn't be either.
Walleyes only inhabit territory because it provides THEM with opportunity. If there's no food, no cover and no protection from sunlight, then they won't be there.
Folks like fishing on mid-lake bars and humps because of the simplicity, it's easy to see fish and it's easy to present bait to them. But when you're scrounging for fish, weeds provide as much, if not more opportunity; especially for a mixed bag of Pike, Perch and Walleye.
Fishing the weeds with night crawlers has been effective, producing both slot-fish and eaters. There's a knack to slipping your bait through heavy weed cover, but once you get the hang of it, you will like it. If you've never heard of "wiggle worming", then we suggest that you take a few minutes to learn about the presentation. This is an effective way to get your bait into the weeds and root out fish that are otherwise overlooked and it's working well right now. Read >> Wiggle Worming 101
Speaking of weeds; Panfish anglers are finding Bluegills during the day on both Cutfoot and Little Cutfoot. The Sunfish are located near the breaklines, but holding along the inner inside edges of heavy weed patches.  
Fishing the weed edges with spinners is a good way to locate them and can provide some bonus Walleye too. Tip your spinner with ½ night crawler and troll until you encounter a Sunfish, then stop and fish the area using small jigs tipped a cut piece of night crawler or small leeches.
Crappies are biting, but the action continues to be best in the early morning and late evening. They cruise along the outside edges of the weeds during twilight and this is an excellent time to cast small jigs. A 1/16 ounce jig with a 2 inch twister tails, ripple shad or other action type tails will produce good results. Incidentally, early risers can catch a variety of fish using this approach including Walleye, Pike, Bass and Perch.
Bowen Lodge Lake Winnibigoshish and Cutfoot Sioux Fishing Report June 14, 2017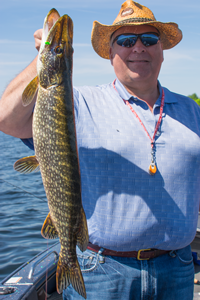 Pike anglers are grinning ear to ear these days because they're enjoying some of the best action we've seen in years. Main lake bars, deep weed beds, rocks and even some of the humps are loaded with active fish right now.
Among their favorable attributes is the quality size of the average fish; these are not hammer-handles. At 23 to 26 inches, the average Pike is large enough to put up a good fight and falls well within the ideal range for your favorite recipes.
You will definitely have some larger fish too and we hope that you'll enjoy the fight, take a photo and return them to the water.
Presentations vary and it's likely that you can catch numerous Pike using most, if not all of your favorite fishing styles. At the moment though, we suggest fishing jig and minnow combinations because they will produce plenty of Pike while allowing you to be in contention for bonus Walleye and Perch.
Don't worry about losing your jigs, we have a simple remedy for bite-offs. Jeff Sundin came up with a leader using 20 pound test fluorocarbon line that prevents 90% of the snipped jigs, stays flexible and doesn't spook Walleyes from striking the bait.
Tie the jig head directly to one end of the fluorocarbon line, cut the leader to your favorite length, about 18 inches is preferred by the veteran guide. Add a #10 barrel swivel to the open end of the fluorocarbon and use the swivel to attach the leader to your fishing line.
That's it, simple, but effective, this rig belongs in the tackle box of every angler that visits Lake Winnie this summer.
When you're jigging for Pike, use an aggressive jigging style. A sharp snap-drop-snap retrieve will produce many more fish than more subtle jigging approaches. We believe that there is literally no way to jig the lure too much for any Pike; if they want it, they will strike it.
Walleye fishing on the big lake has its ups and downs right now. Anglers who focus on fishing during prime time, twilight periods are catching fish, so are the fishermen who brave the elements during periods of strong wind. Fair weather though, especially at mid-day, offers little in the way of an attractive opportunity for catching good numbers of Walleye.
With surface temperatures pushing toward 70 degrees, there are a number of mid-lake areas that have building populations of fish. So far, key areas are the shoreline breaks that run into deep water, mid lake bars and some of the humps located closest to the shoreline are holding fish.
Isolated structures, like the humps located in the middle of Winnie are still uninhabited, those areas typically take longer to begin filling with fish.
It's no secret that the development of clearer water has forced some changes up anglers. Another by-product of the lake's clearing water is the expansion of filamentous algae, also known as angel hair in some circles. It's not new, it's been in the lake for a long time, it is just way more abundant and growing deeper because sunlight can now reach into the depths. 
The challenge for anglers is that it sticks to anything that gets close to the bottom. 
Swimming a light jig a foot above the bottom is one way to avoid it; another is to fish a Lindy Rig with a dropper between the main line and the sinker.  This also suspends the bait so the hook doesn't get fouled by the stuff. "Power Corking", a term used to describe slip bobber fishing using a run and gun search approach is an option and so is using bottom bouncers set up to keep live bait or spinner rigs above the sticky green stuff.
Crappies, at least most of them, have moved away from shallow spawning cover. After Crappies spawn, they spend time in these fresh green cabbage patches and fishing for them is very productive. So, with the development of healthy green cabbage weeds, Cutfoot Sioux is now coming into its summer peak for weedline Crappie fishing. In fact, the weeds hold a variety of fish and anglers will find a mix of Walleye, Crappie, Pike and Perch inhabiting the weeds right now.
For early risers, taking advantage of the multi-species opportunity is easy. Trolling slowly along the outer edges of weed lines, cast small jigs tipped with plastic tails like a ripple shad, twister tail or paddle tail. These artificial baits will produce reliable action and will actually outperform live bait in many cases. The plastic tails fall into the weeds more slowly and produce enticing actions that a live minnow cannot duplicate. They stay on the hook better too and that's more efficient, improving your odds even more.
We have guests at the resort right now who spend their entire week fishing this method and they produce fish of all shapes and sizes.
Bowen Lodge Lake Winnibigoshish and Cutfoot Sioux Fishing Report May 31, 2017
Persistent cold temperatures may be throwing a monkey wrench into the game plans of many anglers who pursue Walleyes on Winnibigoshish.
When your sonar unit reads 54 degrees, it seems logical to follow that fish should be in shallow water, feeding on swarms of spawning baitfish. Most of our guests have been searching for a hot bite somewhere in the shallows; there should be one there right?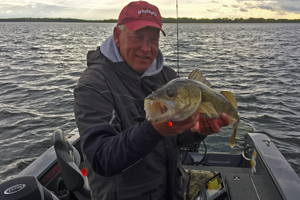 "Not so fast" says Jeff Sundin, veteran fishing guide. "The flaw in that theory is that surface temperature isn't the only factor in determining fish location. The calendar is working on fish locations too and Sundin believes that many, if not most Walleyes have already moved away from shallow shoreline structures and are in transition, moving toward offshore locations."
One day of fishing on the lake doesn't prove the theory, but our guests Fritz and Penny Becker did fish with Sundin this week and they did see some evidence that the theory might be provable.
The crew worked systematically, searching for a school of fish. The first 2 stops were at popular main lake bars where they fished in water depths of 14 to 22 feet. After those stops failed to produce fish, they moved shallow, to another popular area where typical productive depths range between 6 and 10 feet. They worked rocks, weeds and sand flats in the shallow cover and came up short again.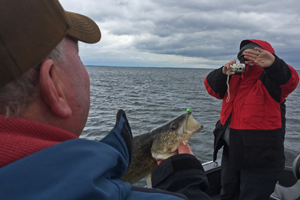 Headed toward another deep water breakline, Sundin stumbled into something; a school of fish, holding along the deep edges of a shoreline flat appeared on his graph. After the spot was marked and the crew began fishing, it only took a few minutes to begin catching fish. The spot appeared at first to be inhabited only by Perch, but soon, the crew began catching Walleyes too.
The spot, shown on this map was a sweeping underwater point that leads into the lake's main basin. The size of the point is vedry large, covering a mile or more of shoreline and that's one of the frustrations, Sundin said. "Structure fishermen like me are most comfortable when there's a sharp drop off or a well-defined point where we can position the boat. It drives me crazy to wander around on the flats because it doesn't feel like I'm controlling anything. But if that's where the fish are, then that's how we'll fish and today, it worked out fairly well."
Key water depths on the flat ranged between 12 and 15 feet and the "sweet spot" was about 13.5 feet. Early in the day, strong winds forced the crew to use ¼ ounce jigs tipped with minnows. Later, the winds calmed and 1/8 ounce Live Bait (Sundin) Jigs worked better.
Until late afternoon, the mix of fish consisted primarily of Perch, including some good keepers, some moderately good ones and numerous smaller fish. Walleyes were scattered, striking at random intervals, but just often enough to keep the crew on their toes. Late afternoon triggered a flurry of Pike activity and the number of Perch strikes fell dramatically. Walleyes continued to strike at about the same rate, slow, but steady.
Leaving us with a parting prediction, Sundin said; "Sunshine and calm seas will force fish off the flats in search of shade. Weed growth, where you can find it will hold some of the fish, but I think that shoreline breaks in deeper water will be a key for the next week."
With Memorial Day behind us, it's time to look forward to more summer-like patterns. Insect hatches have not occurred yet, but regardless, insect larvae continue to develop under the surface and will begin influencing fish location very soon. As the fish move toward soft bottom areas where larvae flourish, presentations will change.
Jig and minnow combinations will continue to produce fish this week, especially for anybody who wants a mixed bag of Pike, Perch and Walleye. Purists seeking only Walleyes should begin experimenting with Lindy Rigs tipped with crawlers and leeches.
Until now, Panfish anglers have not weighed in with any great success stories. The Lilacs are in bloom though and that means Crappies should be in the heat of their spawning runs. If the water warms, they could show up in shallow water very quickly and if they do, it's likely that the event will be intense and short-lived. We'll be keeping tabs and let you know when something develops.
Bowen Lodge Lake Winnibigoshish and Cutfoot Sioux Fishing Report May 24, 2017
The whitecaps were rolling on Lake Winnibigoshish this Tuesday and for our friend Dale Anderson, it was happy news. Halfway through his guide trip, Anderson, Winnie Walleye Guide Service gave up some information about his fishing trip. "So far we've caught 19 and kept 10, drifting the flat over about 14 feet of water. The action isn't fast and furious, but it's steady, we pick up a fish or two on every drift." By days end, Anderson's crew would boat 26 Walleyes, 13 of them bagged for the dinner table. A 50/50 catch to keeper ratio, those are odds we like.

Jeff Sundin, another area guide, was fishing on the lake too and found a mixed school of Northern Pike and Walleye in a little bit deeper water. Sundin's crew was also fishing on one of Winnie's expansive flats, except they were following the steep breakline at about 20 feet of water. Fishing action for the Sundin crew was steady too, but walleyes tended to be larger, most of them falling within the protected slot size. "Our shore dinner was delicious, and was weighted heavily toward Northern Pike, both fried and blackened, sundin said."
The presentation of choice was a jig and minnow. For Sundin, ¼ ounce Lindy Live Bait (Sundin) Jigs tipped with Shiners and for Anderson, jig and minnow fishing was productive too.
Surface temperatures on the lake were steady at 53 degrees, a decline of about 3 degrees over the past few days. If the forecast holds, we'll be enjoying sunshine filled days between now and the start of Memorial Day weekend. With luck, fishing conditions will favor our guests and not their quarry over the busy holiday.
Spot Tail Shiners were just entering their full scale spawning run before the weather turned cold last Saturday. The cold front sent minnows and most small game fish out of the shallows and into sparse weed patches on deeper, sandy flats. That's one reason why the fishing action occurred in deeper water over the past couple of days.
When it warms up, schools of spawning minnows are likely to return to the shallow sand flats, Walleyes and Perch will likely be nearby. We think this could bring on another shallow water bite similar to the one we enjoyed over Memorial Day last year when the action was good in 6 to 8 feet of water. Of course that's depending on the sky, wind and water conditions to replicate what we observed then.
If the seas are calm, we'll be advising our guests to head for steep, shoreline related structures. Some of the fish holding in deep water will be staged, waiting to return to the shallows. Others will be staged in preparation for a move into deeper, mid lake structures.
Panfish action has stopped during the cold front and it's hard to predict whether water temperatures will rebound enough before the weekend to attract fish back into the shallows. But for anyone who wants to capture some crappie, there's a good chance that they will follow historical patterns, moving along weed edges during twilight.
Anchoring along the shoreline break in about 8 feet of water and fishing with slip floats and small jigs tipped with Crappie minnows is a proven tactic. Incidentally, this presentation can also be a reliable producer for Walleyes too.
If there's a major change in fishing trends before the weekend, we'll post an update. In the meantime, pack for pleasant weather, drive safely and we'll see you up here soon!  
Bowen Lodge Lake Winnibigoshish and Cutfoot Sioux Fishing Report May 17, 2017
This was one of the most beautiful Walleye fishing openers that we've seen in years. Warm temperatures and lots of sunshine provided comfortable days on the lake; for many, the tradeoff was a finicky Walleye bite.
Despite summer-like outside air temperatures, surface water temperatures remain cool. The cool water combined with extraordinarily dry conditions has encouraged lake water to remain gin clear and that's been the root of the tricky Walleye bite.
The increased water clarity continues to confuse anglers, especially folks who have fished the lake for a long time. Early season fishing areas that were historically proven producers are much less likely to hold fish during periods of calm, sunny weather. Some fish have moved away from shallow shoreline structures in favor of deeper, more secluded spots.
They move into traditional habitats when conditions are favorable, but seldom remain there for more than a few minutes during periods of bright daylight.
The changing water conditions continue to concern us, but we're working with our guests to help them learn how to adapt to the "New Lake Winnie". That effort paid off for some of the anglers who are updating their fishing strategies.
Scott Gerling and Cathy Bounds took their limit of walleyes on opening day off Ravens Point in 10.5 feet of water using a jig and minnow presentation. Instead of drifting or trolling through the school of Walleyes, positioning their boat away from the fish and pitching lures toward the fish helped maximize their catch.
Presentations like pitching or long line Lindy rigging and slip-float fishing are going to become increasingly important for our guests who love to pursue Walleye, especially during the daytime. Others may choose to abandon mid-day fishing in favor of targeting the twilight bite. Understanding timing, presentation and having the willingness to be creative are all factors that allow some folks to locate and catch fish.
Mobility is a factor too; water clarity on Winnibigoshish is not uniform. Areas where low ground drains into incoming rivers help produce more turbid conditions. Darker water enters the lake, visibility is reduced and the fishing action is better. Finding places like this are not that hard, but it's important to be aware and watch for the subtle changes from one area to another.
Northern Pike are providing action right now, especially on the big lake. Almost any place where you locate stands of Cabbage will hold some fish, but don't overlook rocks and steep breaklines adjacent to the shoreline. Pike hold position along the sharp breaks to ambush baitfish that follow them as travel routes.
Throughout most of the early season, jig and minnow presentations will produce plenty of pike. Lindy rigging with large minnows is also effective on the breaklines and casting spinnerbaits in the Cabbage patches will produce early season pike too.
The pike population continues to rise in Winnibigoshish and we strongly advise utilizing some of them as table fare. The large fish are fun to catch and awfully tempting to bring home, but for the health of the fishery, we suggest returning large fish to the water and harvesting fish in the 22 to 25 inch range. These fish are plentiful in the system and much less likely to grow if their numbers are allowed to increase.
Panfish anglers didn't find many fish in the shallows over the opener. Even though the weather "looked right", the majority of our Crappies had not yet moved toward the shorelines. It won't be long before they do, forecasts suggest that stable weather patterns will be the norm again later this week and that may be all it takes to bring them in.

Earlier this week we received a note and photo from Gerry Albert, the MN DNR Large Lake Specialist for Winnie; "Hi Bill, we stocked 4 million walleye fry today (part of 17.5 million fry being stocked into Winnie).  Earlier in the week 1.5 million fry were stocked into Cut Foot."
Neither Winnibigoshish nor Cutfoot Sioux are dependent on stocking to produce Walleyes. In fact, the Cutfoot Sioux egg harvest produces millions of Walleye that help support lakes in the Grand Rapids region that do not have good natural reproduction.
The millions of Walleye fry that you see in the plastic containers represent a portion of the egg harvest which will add up to about 10% of the total egg harvest. The stocking occurs every spring as a way of replenishing Walleye that may have hatched if the fish were allowed to reproduce naturally.
The fry are stocked within 24 hours of hatching to give them the best chance of survival.  If those eggs were deposited in the lake naturally, less than 1% would hatch. But fish that are born in the hatchery's controlled climate have a much higher survival rate, closer to 4% of them actually reach adulthood.
Even though Winnie has a healthy walleye population with abundant spawning habitat, we do like to see the fish being added into the system. It makes us feel good to know that there's a solid commitment to keeping Winnibigoshish on the top of the list as a Walleye fishing destination.
We appreciate the efforts of DNR fisheries staff who often struggle with negative public sentiment. Just for the record, we know Gerry, he's a friend and he loves to fish just as much as we do. Think about it, if we have to put our faith in somebody, it's comforting to know that we're working with a man who loves what we love, someone who will be fishing with us out on the lake.
Bowen Lodge Walleye Season Outlook Lake Winnibigoshish and Cutfoot Sioux May 1, 2017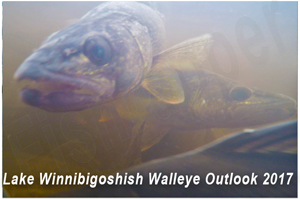 Optimism abounds as we await the arrival of the 2017 Walleye season on Cutfoot Sioux and Lake Winnibigoshish. As a whole, the fishery is healthy and the prospects for a good fishing season are positive.
Populations of gamefish remain solid and there are healthy populations of catchable Walleye, Pike and Panfish, plus there's some good news on the horizon about the future of Yellow Perch fishing.
Walleye populations on Winnibigoshish remain stable and while the numbers may be somewhat off of recent peaks, there are still good numbers of fish from the large 2013 year class in the system. This population now includes a high percentage of fish that range in size between 16 and 18 inches. That's very good news our guests who like to enjoy a fish fry during their trip!
Although there are plenty of "eaters" in the system, larger Walleye remain well represented too. Fish from the large 2009 and 2010 year classes continue to fuel good action for "slot fish". In fact, the presence of those large populations contributed to the recent decision to adjust the protected slot sizes and provide anglers the opportunity to harvest some of these larger fish. Anglers who prefer pursuing larger fish can enjoy catching larger fish and if they choose, can save one over 23 inches for the table too.

A conversation with the DNR big lake fisheries specialist, Gerry Albert provided more fuel for optimism. Although statically, evidence of the 2015 year class won't be available until after this summer's research, there are early indications that the class of 2015 will be more robust than the 2014 class.
Without going too far out on a limb, Albert was cautiously confident that better environmental conditions in 2015 could result in good survival of small fish and that these fish will show up in the testing this summer. Albert isn't expecting to see a monster class of fish, but views its potential as average, maybe even an above average size class of fish.
That would be good news because on the heels of the fabulous 2013 season, Mother Nature provided statisticians with little reason to get excited in 2014.
Knowing that the lakes are healthy is good, but doesn't help unless we keep our fingers on the pulse of what's happening in the system.
The changing environment on Winnie and Cutfoot has made the pursuit of Walleyes both more interesting and more challenging. It's been especially challenging for anglers who remember too much about how Winnie's personality used to be. Getting on the lake by 10:00 to cash in a fabulous daytime bite and then return to the dock by 4:00 used to be the norm. But these days, weather patterns must be in perfect alignment to provide that sort of reliable daytime action. Many favored fishing spots and preferred presentations from the good old days are still effective, it's just that they occur less often.
There's no doubt that preferred fishing patterns and presentations are changing. A combination of filter feeding invasive species has forced walleyes to adapt to clearing water conditions. Some fish have moved deeper, some spend more time suspended in the water column and others have taken up residence in the lake's newly emerging deep weed lines.
For anyone who possesses the knack for creative presentation and knows how to take advantage of opportunity, this is good news. Flexibility and adaptability are keys to taking advantage of the healthy, but mobile Walleye population.
This summer, we'll be coaching our guests, hoping to broaden their repertoires with some simple tips like these.
Spend more time on the lake during low light hours. Unlike the good old days, early morning and late evening are typically more productive these days.
Utilize your electronics to pursue suspended fish. Baitfish have adapted to the changing environment by suspending over open water. Walleyes, still eager to feed have been forced to follow the baitfish in order to capture a meal.
Seek out newly emerging, deep weeds. We can remember when weeds found in 8 feet of water were considered "deep" on Lake Winnie; but not anymore. It is common now to find weeds growing into 14, 16, even 18 feet of water. These weeds do hold fish, especially during mid-summer when weed growth peaks.
Follow our fishing reports. We post a fresh fishing report every week and we do our best to provide detailed information about what the fish are doing and why they're doing it.
Northern Pike Populations continue to rise on Winnibigoshish and we see little reason to discourage anglers from pursuing and harvesting eater size fish. In fact, looking at the population chart, an angler could feel a sense of urgency about increasing the harvest rate of Pike.
Historically, Winnibigoshish has provided good growth rates and an angler's ability to capture pike of quality size has been fairly easy. We'd like to see that continue and we know that a growing population could put too much strain on the Pike's ability to grow quickly and to a large size.
This summer, we'll be encouraging folks to harvest a few more pike for the table and we'll be providing of information to make the task a simple one. We'll be publishing plenty of recipes, how to tips and fishing reports that will help make the pursuit of pike more productive.
Yellow Perch populations have been high, perhaps too high over the past few years. It's been common to catch lots of fish in the 5 to 8 inch range, but not very common to catch quality fish, let's say over 10 inches.
Statistically, there's evidence that the trend is shifting and that we may be seeing an improvement in quality. Size structure won't improve overnight, but we feel that over the next few years, Perch will become an increasingly rewarding pursuit. In fact, we already saw anecdotal evidence of improving size structure last summer. Many of our guests were able to harvest fish in the 9 to 11 inch range and fish in the 8 to 9 inch range, approaching keeper size were extremely abundant.
We'll be keeping an eye on angler success this summer and we will definitely keep you posted about population trends.

Because of their propensity for migrating, forecasting Panfish success is always tricky.
We do know that there were lots of Crappies in the 9 to 10 inch range inhabiting Cutfoot Sioux last fall. There were also smaller schools of high quality fish scattered throughout the system, fish in the 11 to 13 range were available and caught by many of our guests.
Conversely, we did not see very many large schools of small fish, ones in the 7 to 9 inch range. That may well be an indication that this summer will provide anglers with more quality fish, but at the expense of higher numbers.  
We're excited to find out how our predictions turn out and we'll be looking forward to sharing them with your over the summer. So stay in touch and remember if you're in the area, stop by the resort and let us show you around, we'd love to hear your stories from the lake!
Bowen Lodge on Lake Winnibigoshish and Cutfoot Sioux - Your Hosts Bill & Gail Heig
58485 Bowen's Rd., Deer River, MN 56636 Email Sign Up For The Bowen Times Newsletter Toll Free 1-800-331-8925 Like Us

Copyright©2018 All Rights Reserved Bowen Lodge • Report A Problem EMAIL