<< Back To Current Fishing Report .
October 12, 2013 - Over the past few days, Deer River area fishing guide Jeff Sundin has been fishing with Bowen Lodge guests, Ed and Phil Goettl. Frequent Bowen Lodge visitors and long time fishing customers of Sundin's, the Goettl father son team had a good fishing trip this fall, heading home after gathering their limits of Crappie, Walleye and Jumbo Perch.
We caught up with Sundin, who was out on the lake again this Friday and coaxed him into sharing a few tips about the fishing on Cutfoot Sioux.
"Fall Fishing on Cutfoot Sioux and Lake Winnie would surprise more than a few folks right now." Sundin added, "It wouldn't be fair to call the action phenomenal, but it is a lot better than most folks realize and there's plenty of room to work out there because the traffic is unusually light.
Surface temperatures on Cutfoot were very uniform, hovering just above 58 degrees almost everywhere we stopped. The wind was very strong and the Whitecaps were thoroughly mixing the surface water, so I think that it's going to be a few more days before the fall turnover will be worrying me. Even then, we'll just have to make some adjustments. Fishing more during the prime times, early morning and late evening will help, so will looking for fish in deeper water. I'm sure that's a subject we'll be covering in my own fishing reports next week.
On Friday, I was fishing with a single customer and that gives me a lot of added flexibility. Fishing only in Cutfoot Sioux, we were able to capture his limit of Walleye by fishing on the breaklines in 8 to 12 feet of water. The action was not fast, but it was clear to me that if I'd spent the entire day pursuing only Walleye, we would have been able to produce a few fish at every stop. We may have even located a better school of fish somewhere, but we'll never know that for sure.
I do know that at the landing, anglers returning to the docks were reporting decent catches from their morning trips. Whenever there are numbers of visiting anglers catching fish, even moderate catches, that usually tells me that there is a reliable bite going.
Our best presentation was 1/8 ounce jigs tipped with minnows. Jigging action was typical of my style on any fall Walleye trip. We pop - hop - snap and pause, holding steady as the line tightens. If there are no strikes detected, we swim the jig back to the boat and cast toward the breakline and repeat the process. No matter whether you drift, troll, or even anchor your boat, it's best to keep probing out and away from the boat as you cover territory.
We only used Chartreuse Green, it was working and we had few if any, lost lures. Since there was no need to experiment, we didn't.
On Friday, I expected to find the fish at the outer edges of points. Instead, they were located on the inside corners, especially in places where the waves were rolling into the pockets. I think that helped create a trap where the Walleye could easily surround forage minnows. After we finished our Walleye episode. Jumbo Perch became the next target.
Shallow weeds continue to hold and produce good numbers of Jumbo Perch. There are reliable spots throughout the entire chain of lakes. Cutfoot, Little Cutfoot and Lake Winnibigosh are all kicking out some very nice fish.
The secret is that you need to keep poking around in the weeds until you pull out one or two fish of desirable size. Yes, there are going to be many small ones to weed through. But if you're persistent, sooner or later you'll come into a school of good ones.
All of the areas I've fished have one thing in common; They are flats ranging in depth from 5 to 7 feet deep and where the fish are surrounded by weeds. Somewhere within these weed patches, you'll encounter a "bald spot". maybe it's gravel, a clam bed or even some light rock. Once you locate a spot like this, they tend to be reliable and it's likely that you will find fish in the same areas on your next fall trip too.
We've been using 6-1/2 foot rods, 1/8 ounce Lindy jigs and small fatheads. Don't worry about casting the jigs, forget about even touching the bottom. Just use about one rod length of line (5 to 6 feet) and lower it over the side of the boat. Let it sit nearly motionless and when the fish strikes, don't try to set the hook. No, with such a short line, setting the hook will more than likely result in a missed fish. You will succeed more often if you simply lift the rod tip and let the fish set the hook for you. In fact, watching us fish yesterday, would have reminded you of two guys fishing with cane poles. Rarely, if ever using the reel to get a fish into the boat.
Crappie fishing found it's way on to the agenda too, but not for long. There are Crappies on the prowl and they are still catchable. But with the high wind, our timing it wasn't all that great for pursuing them. That, along with the arrival of an approaching storm, signaled us that the exit ramp was the best destination.
Gail Heig and Bob Weinfurter joined their fishing pal, Gerry Albert on Thursday for a trip to his "Secret Walleye Hole". The came into some good fishing luck of their own and wound up having a great day on the lake. A dream come true for a resort owner who rarely has a chance to visit the inside of a boat.
We'll have to live without knowing their precise location. But we do know that fishing with Jig and Minnow combinations in shallow water, they were able to boat some really nice Walleyes, along with some Jumbo Perch for a bonus fish fry.
September 28, 2013 Walleye Fishing on Lake Winnibigoshish remains centered around the summer weedline patterns that have been locked in place for several weeks. Trolling Spinners tipped with night crawlers has still been producing fish during the past few days. Walleye anglers who have been scouting typical fall areas have reported limited results.
On Tuesday, Jeff sundin and his crew fished the stretch of water from the Rock Pile, all the way West to Third River. Sundin said; "We didn't find anything that reminded us of a "hot bite" in that area at all. There are fish beginning to inhabit the weed edges and it wouldn't surprise me to find some decent action after the next shift in wind direction. For right now though, I'd stick with some of the areas already known to be producing fish.
Duck Pass, Little Stony, Evinrude Bay and The Bird Houses are places that I'd check out. For most of the summer, Walleyes have been moving in and out of these areas. Weedlines in the 6 to 9 foot range have been productive. So too are the deeper weeds that can be found in the 11 to 13 foot range. Mid depth flats, like the one on Center Bar that they now call "Riley's Flat" since Todd Riley's AIM Tournament win there a few years ago. Similar flats can be found on the South end, between Horseshoe Bar and the Bena Bar.
Lots of guys are still pulling spinners tipped with 1/2 night crawler. Some, like me have switched over to jig and minnow presentations and a few others are using night crawler tipped, Lindy Rigs. Most of the anglers who fish the flats have been trolling with spinners. But in the past, we've had good results fishing with Jig presentations too. Large Jigs tipped with artificials and/or minnows should be given a good test out there too.
On Cutfoot Sioux; Mixed bag and mixed presentations, are producing results for guests this week. Crappie and Sunfish have begun to move into deeper water, but don't be shocked when you find them on the weedlines too.
Northern Pike fishing on Lake Winnie has been consistent, Bowen Lodge guests report good action for good size fish. We think that it's been one of the better seasons for folks fishing Pike on the big lake. There are still healthy stands of deep weeds and the adjacent flats are teaming with baitfish. Pike have been active all summer long and the average size has been good.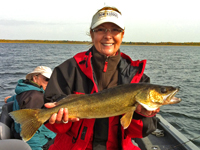 A resort owners dream, a free day to go out on the lake and fish. Gail Heig of Lake Winnie's Bowen Lodge , shows off a hefty 26 inch Walleye that she caught on a jig and minnow.

Joining the Walleye fishing fun was Bob Weinfurter. A familiar face for guests at Bowen Lodge and a darn handy guy to have around.

Busting out and sneaking away. The Luscious Sisters have a plan. Sneak up to Bowen Lodge, pick up the crew and get out on Lake Winnie for some Walleye fishing. Mission, bring home food!

Loving it when a plan comes together, the Luscious Sisters are all smiles! The prospect of coming home with food is looking good!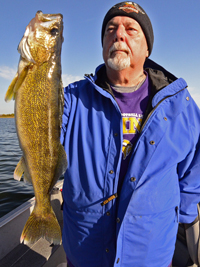 Choking back a smile that might reveal why he's so happy. Ed Goettl shows off a $20 dollar Walleye that he caught on the rocks in 10 feet of water.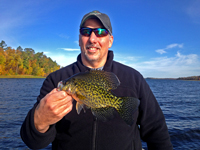 Crappies were suspended 6 feet off of the bottom in 32 feet of water. The schools of fish are getting easier to locate now and when you find one, there are larger numbers of fish in each school.