---
Bowen Lodge July 3, 2019 "Arrival Of Summer Ignites Panfish Action"
At Lake Winnie and Cutfoot Sioux, summer has arrived in all its glory!
Surface water temperatures are approaching 75 degrees, insect hatches are going strong and fish are moving into traditional, mid-summer locations.
Walleyes, for many, are primarily a catch, photo, release fishing opportunity right now. This is especially true for folks fishing on Winnie during the daytime.
Mid-lake bars and humps are producing fish; primary depth range is about 26 feet of water. On cloudy, turbulent days fish will move shallower, don't overlook going right up on top of the structures when conditions are right. On bright, calm days, walleye are suspending out and away from the structures and can be found high in water column. Locating these fish takes some determination, but if you do, they can be caught.
The dominant deep-water fishing presentation is Lindy Rigging live bait like leeches and night crawlers. Jig and minnow presentations will produce some walleye too and as a bonus, you'll catch pike and perch during your search. If you locate suspended fish, "power corking", an aggressive presentation that incorporates the use of a slip float, will produce strikes.
Our very own dock hand extraordinaire, Jared Saufferer says; "I've used a live bait rig with either a leech or a night crawler slowly dragging them around areas that I've already marked fish in. Speeds from .4-.7 have been best for me. Main lake humps and bars seem to be holding the majority of slot fish. We did get some keeper fish in Cutfoot on saddles adjacent to deep water. We caught walleyes anywhere from 9 to 22 inches long in these areas."
Cabbage beds are holding fish now as well. The vegetation is green and lush, growing to a height of about 5 to 6 feet on the main lake, taller than that in back bays and protected areas.
For eater size walleye, these weeds will soon be the focal point and in some areas, they may already be. But no matter what happens with the walleyes, if you fish these cabbage patches now, you'll be in for a treat!
Crappies and sunfish are taking up residence in the cabbage and they are becoming very active, especially during low-light periods. In fact, if you fish the period from 8:00 to 9:30 PM, it is highly likely that you'll find an active school of panfish. We've heard good reports from folks fishing in a wide variety of locations, even including out on the big lake.
Trolling spinners over the weed tops is a good way to locate panfish. Once you find them, casting small jigs tipped with action tails may be a more efficient way of catching them. Small safety pin spinners like the beetle spin are also good and provide a great combination of attracting and triggering strikes.
Cover territory; don't get too locked in on any one particular cabbage patch. If you move from spot to spot, your search will end happily.
---

Bowen Lodge Fishing Video From The Pros
Be sure to check our videos section too! We have compiled an assortement of fast moving videos with fishing tips and secrets from area fishing pros that will help you be more productive on your next visit to Bowen Lodge.
<< Click the image for Videos
---
Bowen Lodge June 18, 2019 "Great Walleye Action On Cutfoot Sioux and Lake Winnibigoshish"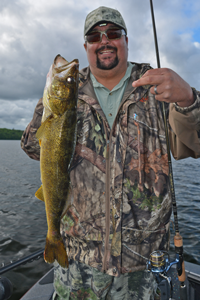 The walleye catching on both Winnie and Cutfoot continues to be great. It is not at all uncommon to hear reports from our guests about catching double digit numbers of fish on an average outing.
When it comes to catching big numbers of "keepers", many have been perplexed. But even while there aren't many folks reporting limits, most folks are catching enough eaters to provide for the traditional family fish fry.
Anglers with the best records for catching the smaller keepers tell us that the trick is to stay away from the crowds and explore fresh territory.
When you think about it, avoiding the well-known, crowded areas it makes a lot of sense. Whenever there are a lot of people fishing over the same school of fish, pressure on those keeper size fish is intense. After a day or two, many of the most willing biters have been removed and the remaining neutral or negative fish become much trickier to catch.
By nature, the larger "slot-fish" need to eat more and are more prone to being active under less than ideal fishing conditions. The result; folks who continue to fish pressured areas catch an increasing number of protected fish while the number of keepers in that area continues to decline.
We borrowed some information from one of the local guides who was on the lake this Monday. Spot-hopping, according to him has probably been the best strategy for increasing the number of keepers he adds to his customer's creels. On Monday, he spent the entire day in Cutfoot Sioux, moving from one point to another catching and sorting fish until by the end of the day his crew had accumulated 10 keeper size fish.
Watching the wind and selecting spots where it will provide a good drift is one of the keys to his strategy. Look for every flat, point or weedbed where there's a quartering wind that will allow you to control your drift along the breakline.
Make one initial drift to assess the number and size of fish on that spot. If there are active biters on a spot, you will only need one drift to find out. Whatever you catch on that first drift dictates whether you'll make a second pass or not.
It may seem silly to move around so much, but consider this. Are you better off spending 3 hours on a single spot hoping for fish to find you or will you have more fun spending 2-1/2 hours searching for fish if the reward is 30 minutes of great walleye action?
Facts from the lake on Monday included surface water temperatures that were consistently below 65 degrees. The warmest area was 64.3 degrees and the coolest was 63.5 degrees. Partially due to the cool temperatures, water clarity is better than it was last year at this time, especially out on the big lake.
The added clarity means that cabbage patches are developing quickly and there are several expanses of very green, very healthy vegetation to explore. Walleyes, especially the smaller size fish are relating closely to the cabbage patches.
The best presentations for walleye over the past few days have been Lindy Rigging using leeches and wiggle worming using 1/8 ounce live bait jigs tipped with night crawlers. Anglers using jig and minnow combinations are catching some walleyes too, but fishing with minnows right now encourages a better pike bite than it does walleye.
Crappies no longer inhabit spawning areas, any of them that did spawn have moved out into the cabbage patches too. They are biting best during very early morning and very late evening. Creeping along the weed edges, casting small jigs tipped with artificial action tails will produce the most fish.
---
If you've never visited Bowen Lodge, stop in while you're in the area and let us introduce ourselves. We would love to be your next fishing destination, so we'd like to show you around the resort. Once you pay us a visit, we're sure that you'll understand why we say;
"At Bowen Lodge, You Are Part Of Our Family!"
See the resort >>
Bowen Lodge
or click here for >>
The Bowen Lodge Story
---
Bowen Lodge June 10, 2019 "Winnie Water; High, Cold and Clear"
Peeling off the rain suits and leaving the wool socks in the cabin has felt great these past few days. But the arrival of warm, summer weather is signaling us that the time for changing fishing patterns are upon us.
Water levels are high on both Winnie and Cutfoot, in many areas, docks are level with the water line and boat ramps are flooded. The high water, combined with cool weather has kept surface temperatures cool. Tuesday, the surface water temperature had finally risen above 50 degrees; it was 51 on the big lake and about 54 degrees on Cutfoot Sioux.
These cooler than average water conditions, have kept the water clear, particularly on Big Winnie. One of the area guides, Dale Anderson said; "I was in Tamarack Bay and notice that the water looked like it was clearing up. I dropped a jig to the bottom in 9 feet of water and could see it plain as day."
Cool, clear water was fine when the wind was blowing and the rain was falling. But under the bright sunshine, especially without a breeze, fish activity has shifted almost entirely to the twilight hours. Travis Krug and his crew have been fishing the evening bite all week, Krug says; "We found a weed flat in Cutfoot that's been holding walleyes ever since we arrived last Saturday. We don't get many during the daytime and when we do, they're usually slot-fish. But as soon as the sun falls below the tree line, the action picks up and the number of eating size fish increases."
You can probably guess what our advice to guests arriving soon will be; focus on fishing walleyes during early morning, late evening and whenever cloud cover and wind encourages daytime movement.
Another strategy that will help improve daytime walleye action is to move deeper and use slow, natural presentations.
Even over the fishing opener, our guests were commenting about finding fish deeper than usual. It was common then to hear reports of good catches coming from 16 to 18 feet of water. Early June is historically a time that walleye migrate deeper and it makes a lot of sense to start looking at deep water early this year.
One indicator that fish may be moving deeper is the "hot bite" that occurred in Tamarack Bay, along the Mississippi river Channel just before Memorial Weekend. Over the years, we've observed that when large schools of walleye migrate though that area, there's a short-lived peak in the fishing action.
Heavy traffic and the fishes own natural instincts to migrate deeper combine to encourage many of those fish to move toward mid-lake structure. During the early stages of this movement, there's a lull in the action because fish become scattered as they travel across large flats. It won't be long though before they begin appearing on mid-lake structure.
We'll be encouraging folks to start using Lindy Rigs tipped with lively leeches for triggering strikes in deep water. "Power Corking" is an aggressive fishing system that combines scanning structure with your sonar to locate fish with the use of slip bobbers.
This system allows you to present natural appearing live bait to specifically targeted fish. If you haven't tried it, now is the time to get ready for it; it really works.
Here's a link to one instructional video that gives anglers a good idea about how to get into the Power Corking game.
Panfish, crappies in particular will be in the news this week. For them, the sunshine is an advantage and as surface temperatures approach 60 degrees, we'll see migrations toward shallow spawning areas. There have already been reports about panfish being spotted in shallow water. In fact, there are a handful of reports about good catches of them too. The weather forecast appears to be playing into the hands of crappie fishing; let's hope for a period of warmth and stability, that is the key to good crappie spawning.
By the way, did you know that you can select out only male fish for harvest? Yes you can and it's really easy.
During spring, spawning male crappies turn dark black while females remain silvery in appearance. Any conservation minded angler can easily slip the black colored fish into the livewell, while releasing the silver covered females to complete their spawning process.
---
Bowen Lodge May 15, 2019 "Lake Winnie Living Up To It's Reputation"
Lake Winnie's reputation as a great early season walleye lake is proving to be well earned again this spring. Our guests have enjoyed both great action and good eating this week.
We've got a big group of fishermen here this week and they've had several guides fishing with them. It's fair to say that between all of them, they've already covered about 2/3 of the fishing areas on both Winnie and Cutfoot. So far, none of them have been stumped; they're catching fish in all 4 corners of the lake.
We asked another guest, Shawn Dewaard about his group's experience on the lake. "Water conditions and clarity seemed to be pretty comparable to what we found last spring. The water has some clarity, but it isn't super clear.
We've been catching a lot of nice fish, slot-fish dominated the catch on Tuesday, but we did get some keepers too."
Reed Ylitalo, Wings and Walleyes Guide Service said; "We got a lot of slot-fish today too, but I had 10 keepers, a handful of really nice perch and a few good eating size northern pike too. That's been about the normal day for me, 8 to 10 keeper walleyes, a lot of big ones and a few pike and perch mixed in."
It's no surprise that most everybody on the lake is fishing with jig and minnow combinations; that's typical for Winnie this time of year. Most folks are using 1/8 ounce size jigs and the colors we hear mentioned are blue/glow, parrot, pink/glow and obviously chartreuse green.
Shiners have been terribly tough to come by, but the folks who find them say that they're an advantage. Ylitalo; "I've fished with fatheads and rainbows, but I also got my hands on some shiners and I think that when we use them, we catch more fish."
Key fishing depths vary with the weather, but focusing on the shoreline break in 10 to 12 feet of water is a great starting spot. If the clouds roll in and the wind blows, shift into shallower water, 7 to 9 feet has been good. When the sun comes out, or when the lake is calm, then slip out a little deeper. Dewaard; "We've had quite a few coming in from deeper water this spring, 14 to 16 feet is not a typical depth for us, but this spring it's been productive."
Pike are hungry right now, so folks who want to take advantage of the 10 fish limit can sure do it. You won't have to go out of your way to catch them, they're hitting on the jigs and minnows right along with the walleyes.
Since the walleyes are biting, panfish haven't captured the attention of most anglers yet. We'll probably hear more talk about them over the upcoming weekend and we'll be sure to focus on that as soon as the news gets interesting.
In the meantime, we're enjoying the kickoff of another great season.
---
Bowen Lodge May 10, 2019 "Safe Harbor For Lake Winnibigoshish and Cutfoot Sioux Fishing Opener"
If the weather prediction holds true, then there will be more than a little "Walleye Chop" on Lake Winnie tomorrow morning. That means there will be lots of traffic at the boat ramps on Cutfoot and Little Cutfoot Sioux from folks who plan to avoid the big waves.
That's why we're refreshing our annual invitation to you, come on over to Bowen's and put your boat on and off the water here.
It's not free, but for the price of our landing pass, you'll have help at the ramp, easy access to parking and a fish cleaning station for packing up your catch. Best of all, you'll have comradery; you'll find folks at Bowen's cheerful and happy to see you.
A few years back, Jeff Sundin came here on the opener and made a little video about being optimistic for the fishing opener. We can't help but feel that same sense of optimism around here today. As guests arrive at the lodge, we're sharing stories about the great fishing we all enjoyed last spring and we're optimistic that re-living those experiences will be on the agenda this weekend!
Fishing patterns and presentations on Winnie and Cutfoot should compare to an average opener. There's a good chance that fish will be more widely dispersed than they have been for the past couple of openers. The Walleye spawning runs are wrapped up and a lot of female fish have moved back out through the gap into the big lake.
Male fish linger near spawning areas a little longer, so we anticipate seeing a good ratio of keepers in anglers catches this weekend.
The water levels are high and the water temperatures are low. There's so much water in the lake right now that surface temperatures have refused to budge. In most areas, the water is still below 50 degrees and in some areas; it's closer to the mid 40 degree range. By all accounts, shiner minnows have not begun moving into the shallow to spawn.
Under these circumstances, shiners, along with small perch and other baitfish will probably be located in areas where weed stubble, clam shells and gravel offer protection. Some of the larger weed flats that lay adjacent to deep water should be prime targets this weekend.
For anglers with larger boats, the trek out into Tamarack Bay might be worth the trouble. The expansive weed flats in the bay have been host to huge schools of small perch all winter long. Those small fish will attract feeding walleyes. With a strong south wind, the entire area from Tamarack Point down to the dam should offer prime fishing conditions. So will the stretch of water from Plughat Point up to the northeast corner of the bay.
Jig and minnow combinations will produce walleyes as usual. Bring some 1/16 and 1/8 ounce sizes to cover the shallow water and maybe a few 1/4 ounce jigs to cover the fish that hold on the deeper breaks.
We've got plenty of fatheads on hand, but we don't expect to have shiners for the opener.
The anticipation is building and we're looking forward to the beginning of another great season. Travel safely, have a great opener and stay tuned, we'll keep you updated on trends and patterns as they emerge.
---
Bowen Lodge May 2, 2019 "Lake Winnibigoshish and Cutfoot Sioux Fishing Outlook For 2019"
After the great walleye fishing we experienced during the 2018 fishing season, it's hard not to be excited. All indicators are positive for another great open water season this summer.
One really encouraging signal was the number of "keeper size" fish we saw at the DNR walleye egg harvest this spring. There were lots of fish in the 13 to 17 inch range in the trap and while there were lots of larger fish too, it appeared that ratio of small fish to large ones has increased.
Encouraging us to exercise caution, DNR large Lake Specialist Gerry Albert reminds that it isn't practical to form an opinion based on a one time sighting at the traps. Still, we've been there numerous times over the years and anecdotally, the fish we saw there this spring left us itching to get out on the lake.
More encouragement about walleye fishing on Winnie came in the form a report from Albert; "It appears that survival of the very strong 2018 year class has been good. Read >> "Cautiously Thrilled, 2018 Winnie Walleye Assesment".
At present growth rates, fish from this year class could begin reaching catchable size as early as 2021, but more likely 2022.
The current growth rate in Winnie is really great, but can't assume that the current rate will apply to this larger year class. Whenever you see high population densities, it's likely that competition for food and space will slow the growth rates somewhat. We'll know more when we begin testing this summer."
A key factor in angler success on Winnie has been water clarity. Last spring's late ice-out, combined with a long period of warm, sunny weather gave algae blooms in the lake a head start over the Zebra Mussels, which didn't mature until mid-summer.
The decrease in water clarity gave anglers a huge advantage and the fishing in 2018 was as good as, or even better than it was in the "good old days". Our guests had little trouble catching fish and comments from some indicated that that were enjoying "best ever" success.
We learned a lot from those experiences, but two things stood out.
The first lesson was seeing firsthand how strong the walleye population in Winnie actually is. It's hard to be anything but positive when we see virtually everyone in camp catching fish and coming back to the docks smiling.
The second lesson was learning more about the relationships between Zebra Mussels, clearing water and angler success. Many of us who struggled to catch fish when the water was super clear had no problem at all when the lake's algae blooms provided cover. We probably could have been catching fish all along, if we had figured out which adjustments to our fishing presentations we needed to make.
Albert; "For the moment, it appears that the population of Zebra Mussels in Lake Winnibigoshish has plateaued. We know that they will always be with us, but it's not exploding the way it was a few years back. It is possible that the impact of their presence will be felt a little less dramatically as their population stabilizes.
We know that anglers figure out how to find and catch walleyes in other clear water lakes. Over time, adaptation will be the secret to consistent success on Winnie too."
Northern Pike will continue to provide good action and good eating for our guests this summer too. Pike populations remain high; in fact recent statistics show 13-15 fish per test net now. That's roughly double the 6 fish per test net during the late 1990s and early 2000s.
The protected slot that requires releasing all pike from 22-26 inches took effect in 2018 and by all accounts, began doing its job. There were numerous reports from folks who released a lot of fish in that protected range.
We spoke to Gerry Albert about pike fishing too; "There are still a couple of strong year classes of pike that are moving into the lower range of the protected slot. That means there will still be a lot of fish in that protected range this summer. But growth rates for pike a very good in Winnie and some of the fish that were in protected range last summer will be moving out of the slot this year. Over the next couple of years, more and more fish will reach the 26 inch threshold for harvest."
Some of the guides have been encouraging customers to harvest pike, especially the smaller ones. Local guide Jeff Sundin says; "Most folks who say that they don't like pike really mean that they don't like cleaning them. That's why I tell my customers that they might as well save some while they're fishing with me, that way they can let me do the cleaning.
You'd be surprised how many people begin utilizing these fish after they see how easy it really is to clean and prepare them."  
Last year, we introduced a video that focuses on catching, filleting and cooking some of these excellent eating size pike. If you haven't already watched the video, we strongly suggest viewing it now. Prepare to be amazed, these fish make fantastic table fare and there will be plenty of them to harvest in 2019. View Video >> Outdoor Bound TV Lake Winnie Pike Fishing
Perch populations have declined over the past couple of years, but the reward for that is that there are more fish entering the "keeper" size range. Fish over 9 inches are becoming more abundant and now make up 15% of the total perch population. Albert; "That huge bubble of perch that we remember from a few years ago is maturing. There are less small fish and more desirable ones in the lake. Anglers should anticipate catching fewer fish over all, but when they find them, there will be a better chance at catching keepers."
Historically, panfish populations in Cutfoot, Little Cutfoot and Winnie have been cyclical. In 2018 we saw evidence of a new up and coming crop of sunfish. There were fish everywhere and they were aggressive, especially during the mid-summer period. They were however, pretty small and it depends on each anglers individual threshold whether they will be of interest this summer or not.
That's not to say that you won't find quality panfish this summer; you will. But be prepared to encounter a lot of these smaller fish along the way and think of it as good news. These fish will be reaching desirable size in the very near future and we'll be keeping an eye on them.
Bass and Musky fishing will be on the agenda this summer too, but let's get the walleye season started before we focus any more on the warmer water species.
We're only a week away from opening weekend and we're chomping at the bit to get the season rolling. We'll see you when you get here!
---
Bowen Lodge Fishing Report April 30, 2019 "MN DNR Fisheries Wrap Up Walleye Egg Harvest In Record Time"
Few things in Minnesota match the spectacle of the walleye spawn.
Every spring, the MN DNR sets nets in a bottleneck of Little Cutfoot Sioux Lake to collect and fertilize eggs from the thousands of males and females making their yearly journey to their spawning beds.
The goal of this practice is to meet statewide needs for stocking fish in small lakes that otherwise would not have a self-sustaining walleye population, and the amount of eggs collected varies from year to year. In 2019, roughly 80 quarts of eggs were harvested, mixed with a fine silt to prevent the fertilized eggs from clumping together and increase their probability of hatching.
These fish have been running to spawn for over a week, with over 2000 fish reaching the DNR nets to be handled before being released in the water. Low oxygen levels in the water were a large concern for the biologists, as pockets of the suffocating water can endanger the fish.
Despite the snow, rain and cold, the strip was fast and efficient this year and it was fascinating to watch these professionals perform their duty.
Soon they will return 16 million walleye fry to the waters of Lake Winnibigoshish and Cut Foot Sioux, bolstering yet another year class in our fishery.
---
Bowen Lodge on Lake Winnibigoshish and Cutfoot Sioux - Your Hosts Bill & Gail Heig
58485 Bowen's Rd., Deer River, MN 56636 Email Sign Up For The Bowen Times Newsletter Toll Free 1-800-331-8925 Like Us

Copyright©2019 All Rights Reserved Bowen Lodge • Report A Problem EMAIL