---
Bowen Lodge Fishing Update June 15, 2018 - Summer Peak Period and Walleye Migrations on Winnie
The Winnie Walleye bite continues to be strong, and has now turned the corner into summer fishing patterns. The surface water temperature is holding steady at 67 to 69 degrees. Evidence of both hatching insects and maturing larvae can be seen on our electronics. Tiny gamefish and minnows can also be located in large schools, feeding on the insect larvae near the bottom.  
As always, the development of this deep water food chain encourages a certain population of fish to evacuate the shallows and migrate toward deep cover in open water. The period has been referred to as the summer peak and it can be a super productive time for anglers who know how to take advantage of the opportunity.
The first phase of the migration occurs when fish follow deep shoreline breaks that are connected to shore, but lead toward the lake's deep water basin. Large bars that have immediate access to deep water are the first structures to become populated and on these structures, the migration has already occurred.
Walleyes can be found in good numbers on many of the most popular mid lake bars. The Bena Bar, Sugar Bar, Horseshoe, Moses and the drop at Moxies Hole all have fish on them right now. One caveat for anglers fishing during the day is that most of these fish will be larger ones that lie within the lakes protected size limit. If you fish these spots, the likelihood is that you will enjoy good action and have the opportunity to get some great photos, but there will be few "keepers" in the mix.
Anglers fishing these structures in search of walleyes for the creel, focus your effort on fishing during prime time, low light periods during late evening and at dawn. At these high action times, the percentage of smaller fish increases dramatically and you will have better opportunity to harvest fish.
Presentations vary, but the top choice for most anglers continues to be a Lindy Rig paired up with either leeches or night crawlers. These days, we commonly combine the live bait with a float of some sort. Adding a small float to the rig not only allows better control of our bait placement, but also allows us to fish without fowling hooks with moss and low lying weeds found near the bottom. Small floats can be added to the line for fishing with leeches and a worm blower can be used to inject a small bubble of air into night crawlers.
Other popular presentations can be seen in use on the lake these days too. Over the past few days, we've observed anglers fishing "the bars" with bottom bouncers & spinners, slip floats, jig and minnow and even wiggle worming.
Jig and minnow presentations offer an opportunity to capitalize on pike that are cohabitating with walleye in many areas. On Thursday, there were a group of fishermen who caught both pike and walleye in the same place, at the same time using ¼ ounce live bait jigs tipped with minnows.
Walleyes do not all migrate to the same place, nor do they do it at the same time. There are and will continue to be populations of fish that remain in shallow water, primarily in areas with good weed growth. Anglers preparing for an upcoming weekend tournament were cleaning a few "keepers" that they caught during the day while scrounging in the weed growth.
Weeds are developing, but we are still looking forward to the best time for fishing weed patterns. Our advice is to check the weeds, especially during periods of high wind, but don't expect to find major populations of fish in the weeds for another couple of weeks.
Perch are where you find them and most of the best perch action has been discovered accidentally, while anglers are searching for walleye. Typical of early summer, we're in between patterns right now. Perch are scattered far and wide, they could be found in shallow water, deep water and everywhere in between. For anybody who plans to invest time in serious pursuit of perch, our best advice is to focus on either weeds or deep marl transition areas. When we know more, we will issue a more detailed report.
Panfish anglers are picking up crappies during twilight hours in stands of cabbage weeds. The fish make short feeding runs along the outer edges of the weeds at prime time and then tuck into heavier cover during the day. At this time of the season, you can use mosquitos as an "action indicator" because they and the crappies are usually both active at the same time.
It's early Friday morning and we are experiencing a major weather change right now. Strong storms, high winds and a low pressure system are settling into the area and unsettled weather never makes for the best fishing action. We consider it a stroke of good luck that it's occurring now, as we head toward the weekend turnover of our guests. By the time you arrive, the worst will be behind us and fishing patterns should be stabilizing again.
If you're on your way up and haven't paid us a visit before, stop in and say hello. We'd be happy to show you around the marina take you on a tour of the grounds and spend some time talking about plans for your next trip.
---
Bowen Lodge Fishing Update June 12, 2018 - Lake Winnibigoshish Back To Being Walleye Wonderland
"A trip onto Lake Winnie with John Myers of the Duluth News Tribune generated more than a little buzz. Fishing on the big lake is consitent and many of our guests have reported double digit catches of walleye during their fishing trips.
We could say a lot more about it, but why, especially when we can let Mayer's article do the talking for us.
Myers Wrote; "Forgive Gerry Albert if he gets a little excited when he catches walleyes here.
"Here's another one!'' Albert shouted as he set the hook on a walleye, working to keep a tight line and run his outboard in whitecaps. "Ohhh, and I think it's a keeper!"
Big Winnie is Albert's lake, so to speak. He's the ..." Read >> Lake Winnibigoshish Back To Being A Walleye Wonderland June 12, 2018
---

Bowen Lodge Fishing Video From The Pros
Be sure to check our videos section too! We have compiled an assortement of fast moving videos with fishing tips and secrets from area fishing pros that will help you be more productive on your next visit to Bowen Lodge.
<< Click the image for Videos
---
Bowen Lodge June 7, 2018 "Lake Winnibigoshish and Cutfoot Sioux Fishing Report"
"We're not knocking 'em dead, but we're doing pretty darn well." That's the conversation between two fishing groups that we overheard as we passed by the fish cleaning shack.
The sentiment has been echoed by others this week as well and while most agree that Walleye action is off of its peak, our guests continue to find and catch fish on Winnie.
For most anglers, jig and minnow presentations still dominate and in water depths of 10 to 16 feet, this approach still makes a lot of sense. In deeper water, Lindy Rigging is building a head of steam though and will become increasingly popular over the next week as fish migrate toward mid-lake structures. One good rule of thumb will be to fish shallow water on breezy days, but move deeper during periods of calm; especially if it's sunny.
We've already seen some small schools of fish building up on open water structure, mainly those located near the shoreline. For now, avoid isolated structures located in "the middle" of Winnie and focus your attention on fingers that lead from shallow flats into the lakes deeper basin. As the migrations progress, fish will begin showing up further and further away from the larger flats.
Surface water temperatures have fallen this week as a result of cooler, wetter weather. Temperatures now range between 62 and 65 degrees and as a result, water clarity has increased this week. We've noticed that the lake's water clarity is not uniform, in the northwest section of the lake, water is very clear and we can see bottom in depths of 10 to 12 feet. Conversely, in the south and east portions of the lake, we can barely see the bottom in 4 to 6 feet of water.
Taking water clarity into consideration, adjust your fishing depths and presentations to match the conditions in the area you plan to fish. East side fish may still be found shallow for a time, while fish on the north side could move deeper, faster.
Panfish, primarily crappies have begun stacking up in cabbage weeds located near shore in Cutfoot Sioux. By now, any crappies that were spawning have completed their mission and feeding will be their primary focus. While they may be found in any number of locations, Cabbage weeds are by far the most predictable pattern. The tall, leafy plants provide ideal holding structure and open spaces between plants are ideal ambush points for feeding.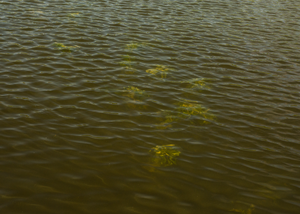 Fishing the cabbage pattern favors anglers who like to fish early and late in the day. Fish are on the move during low light periods and will strike most any lure that drops into their strike zone. A favorite presentation used by some of our better crappie fishermen is a small jig tipped with an artificial, action tail. Move slowly along the weed edges and cast your lure into pockets, gaps or outer edges of the vegetation. Allow the lure to fall; most strikes occur during the time when your offering is still in the weedy cover. Use a slow, swimming, dropping, swimming motion to retrieve the lure and then repeat.
Incidentally, you'll be surprised by the wide variety of fish that you catch while fishing the cabbage presentation. During low light periods, it is not uncommon to bag walleye, pike, bass and perch in random order.
Perch, for the moment, have scattered and become unpredictable. It is not impossible to land on a good school of fish, but you'll need a bit of luck to do it. We've tried fishing rocks, a pattern that was good for a while, but most fish have moved away from those structures. There are good size schools of smaller fish located in large weed flats on Winnie, but you will have to do some sorting to gather a meal. As insect hatches emerge, perch will relocate to deep water structure making both location and catchability much easier.
---
If you've never visited Bowen Lodge, stop in while you're in the area and let us introduce ourselves. We would love to be your next fishing destination, so we'd like to show you around the resort. Once you pay us a visit, we're sure that you'll understand why we say;
"At Bowen Lodge, You Are Part Of Our Family!"
See the resort >>
Bowen Lodge
or click here for >>
The Bowen Lodge Story
---
Bowen Lodge June 1, 2018 "Lake Winnibigoshish and Cutfoot Sioux Fishing Report"
Earlier this week, our friend Jeff Sundin wrote; "I ran into a friend at the gas station yesterday and he said; "how about Winnie huh? It's really something! My kid and his friends were out there on Sunday and caught fish like crazy. They got 16 keepers and released over 40 slot fish." More firsthand accounts came in the form of answered questions that I sent via text. Every answer included words like awesome, fantastic and amazing."
Sundin's report and others like it have been echoing around our resort ever since the fishing opener. Our guests have been finding good numbers of fish, many of them like the ones you see pictured here, along with a reasonable proportion of "keepers" for the table.
With all of the happy faces and good reports surrounding us, our whole family was getting antsy to be on the water to share in the fun. Getting everybody together during "prime time" isn't easy, but after we managed to get caught up on chores, we organized a family fishing party of our own.
I (Jens), along with my fiancé Ashley, my mom Gail, my dad Bill, our dock hand extraordinaire Jared, formed the Bowen Lodge contingency. Joining us were John Myers from the Duluth News Tribune, DNR Large Lake Specialist, Gerry Albert and our friend Grant Prokop from 1000 Lakes Sports in Grand Rapids.
It was definitely an accomplishment to get such a big fishing party organized, but what a tremendous day it was to do it! Not only was the company good, the fishing was awesome. Between the walleye, jumbo perch, pike, and even pig-sized rock bass, today served as a reminder for us about why so many people revere our fishery and why they choose Bowen Lodge to experience it.
Surface temperatures are in the mid to high sixties, but there are still shiners spawning in shallow water. The abundance of baitfish have encouraged most of the gamefish remain in shallow water as well. Preferred fishing depths vary with weather conditions, but on days with a good chop, like today, fish have been willing to move into shallow water. We've caught them in depths of 5 to 8 feet on breezy days. When the breeze is calm, fish move somewhat deeper, with 10 to 16 feet become the primary fish catching zone.
Jig and minnow combinations are still the primary presentation, which is very typical for this time of the season. That said we do have guests catching fish using Lindy Rigs tipped with leeches and night crawlers as well and these presentations will become increasingly important during the coming days.
The next big move will occur whenever insect hatches begin to attract both bait, and gamefish away from the shallow water. For now, we enjoyed the shallow water action and the opportunity for a mixed bag of fish.
After we got off the lake, our day was capped with another fabulous fish fry at the Gosh Dam Place. Molly and her staff always do an incredible job of preparing the day's catch and this was no exception!
For everyone who's on their way to join us this week, we're looking forward to seeing you and we think you're in for a great time. For those of you who we haven't met, do us a favor and stop by while you're in the neighborhood.
We'd love to show you around and have a chance to chat about visiting again as a part of the Bowen Lodge Family!
---
Bowen Lodge May 22, 2018 "Lake Winnibigoshish and Cutfoot Sioux Fishing Report"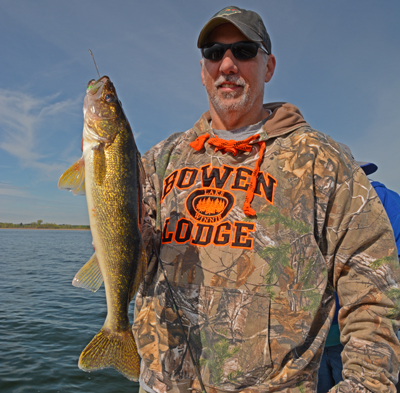 Walleye fishing continues to dominate the conversation around the lodge and in the fish cleaning shack. Our guests have had a lot to be happy about this week, the weather is good, the fishing is good and the eating, that's been good too.
Thanks in part to the late arrival of spring, walleyes remain in shallow water where they are hungry, easier to find and so far, very catchable.
Key depths have been 9 to 15 feet and almost all of the fish have been located along shoreline structure. The best areas are near rivers and flowages where walleyes continue to enter the "main lake" as they return from the spawning season.  Many of the larger female fish have already completed their journey and now, smaller male fish are showing up in good numbers.
With surface temperatures warming steadily, spring spawning runs of shiner minnows will continue to move into shallow water. Another by-product of the late spring, these shiner runs will attract gamefish and help extend the springtime, shallow water walleye bite. Fishing steep breaklines adjacent to sprawling, shallow sand flats where shiners spawn will be an increasingly important factor in successful walleye fishing.
On Monday, our guest Phil Goettl and his crew were entertained by a local guide on the lake and reported catching plenty of "eaters" for a shore dinner back at the cabin. In fact, there were more eating fish than there were "slot-fish" on this trip, the guide reported.
Jig and minnow combinations remain the presentation of choice for most of our guests. For most areas, 1/8 ounce Live Bait Jigs tipped with nice fatheads, rainbows or shiners will all work. Whether you're trolling, drifting or anchored, it's a good idea to frequently pitch the lure out and away from the boat. The lures can be hopped, snapped or evening dragged above the bottom until they fall back in line with the boats path of travel. Constantly getting the bait out and away from the boat allows you to cover more territory and helps keep the element of surprise on your side.
Like we said, walleye fishing continues to dominate the conversation. But perch and panfish are moving into position to become big news as the warmer water temperatures arrive.
Speaking of warmer water temperatures, walleye eggs at the DNR Hatchery in Grand Rapids are maturing into fry. Jumping into the DNR Fisheries Boat as an assistant, Jens got a firsthand look at how, where and why a portion of the hatched walleye fry is returned to both Cutfoot Sioux and Lake Winnibigoshish.
Jens recorded the crew giving the tiny fish their sendoff, we hope you'll watch. We think it's interesting to see how this final stage of the egg harvest at Little Cutfoot results in an enhanced spawning run for the system. We're wishing those little fish well and we hope that they live long and prosper!
---
Bowen Lodge May 17, 2018 "Lake Winnibigoshish and Cutfoot Sioux Fishing Report"
There's no doubt that 2018 is starting off with a bang! Our guests have had consistently good fishing on both Lake Winnie and Cutfoot Sioux.
Walleyes, consisting mainly of larger female fish are migrating from shallow spawning areas, back onto main lake breaklines. It's been common to hear about folks catching and utilizing some of these larger fish, the ones over the 23 inch protected slot size.
Our more persistent guests along with other anglers who seek out shallower water near spawning structures are picking up better numbers of smaller male fish.
Because of the late ice out, there are two distinctly segregated populations of fish right now. Even though female Walleyes have already spawned and migrated away from spawning territory, male fish, hoping for a little more action, are prone to lingering in those areas longer. As the spawning season winds down, the circulation of these fish will be more widespread as well.
If you want to bag a walleye larger than 23 inches, we don't necessarily think that it's a bad idea. But we do think it's important to remind you that any angler may only possess one fish over the 23 inch slot size. If you keep one on Saturday, you may not bag another one at any time until the first one is consumed. Don't fall into the trap of unwittingly adding more than one "over-size" fish to your creel, it could be a costly mistake.
If we've learned anything from the late ice out this year, it is that walleye location is vastly more dependent on timing than on water clarity. Even though the combination of clear water and predominantly sunny conditions should discourage walleye activity in shallow water, anglers continue to catch fish in water depths of 6 to 12 feet.
Is this occurring because the sunshine is warming the shallower water and attracting baitfish? Or is it simply because these are the historic travel patterns for walleyes migrating away from spawning territory? We may never understand it fully, but we are seeing that walleyes can be caught in clear water, if we know where to find them.
Traditional presentations are producing fish; Live Bait Jigs tipped with minnows are the most widely used and very productive. Some anglers are catching fish by long-lining Lindy Rigs tipped with Leeches too.
In the past, drifting or trolling has been the most popular method for delivering the bait. These days, pitching or casting the jig away from a stationary or slowly moving boat is gaining popularity.
In clear water, allowing the lure to reach the fish before it sees the boat makes a lot of sense. Fish not only tend to strike more aggressively before they get spooky, but in clear water they can see the presentation much more easily. That means you can cover a lot more territory and call fish in from greater distances than by either drifting or trolling.
Although walleyes have been the primary target for most of our guests, perch and pike are showing up in their creels too. Most of the time, these fish are encountered randomly throughout the day and are striking the same lures everyone is using for walleye. For perch, there's little reason to do much more than that. But for pike, changing tactics could yield some larger fish.
Right now, while there are a lot of gamefish in the shallows, larger pike will be roaming, in search of an easy meal. Casting large, flashy spoons like the Doctor Spoon, Red Eye or Daredevil can call in a trophy size fish. During spring, pike will eat most any fish, but they are especially fond of crappies, so casting in areas near crappie spawning habitat is a good idea.
Water temperatures have risen steadily for the past week and that began triggering some panfish movement in Cutfoot Sioux. Conditions do not yet favor the start of any full-scale spawning, but on warm days crappies are testing likely habitat. Some anglers are catching crappies in the shallow water, but the action is inconsistent.
For folks who do want to do want to focus on catching crappies, fishing during evening migrations along the weedline is a better proposition. A 1/16 to 1/8 ounce jig, tipped with a small minnow and suspended below a slip bobber will do the trick. Fish from about 5 to 8 feet of water at twilight, the best action seems to occur right around 7:45 PM.
Shiners are still tough to come by, but there are supplies trickling in. It may not matter though; anglers continue to catch fish using fatheads, rainbows and even small sucker minnows. It shouldn't be long before the "shiner runs" begin in earnest, in the meantime we'll continue doing the best we can with what we've got.
No matter whether you're staying with us or not, we're happy to have you visiting Lake Winnie and Cutfoot Sioux. While you're in the neighborhood, we would love it if you'd drop in and pay us a visit. We'd love the chance to show off the grounds, our cabins and the marina and we hope that one day, you'll become part of the "Bowen Lodge Family."
---
Bowen Lodge May 2, 2018 "Lake Winnibigoshish and Cutfoot Sioux Walleye Opener Forecast"
We've been out on a tour around the lakes and the speculation is officially over. Lake Winnibigoshish Cutfoot Sioux and all connected waters will definitely be ice free before the walleye fishing opener on Saturday May 12, 2018.
Little Cutfoot was already ice free on Tuesday and we spied the DNR fisheries staff at the walleye egg harvest site as they assembled the dock decking and moving egg harvesting equipment into position. The traps, if not already placed in the water, will certainly be in operation early today and we should start seeing walleyes at the site before Thursday morning.
Around the lake, we found open water spanning almost all of the west side. If one had wanted to, a boat could have been launched at the Richard's Townsite Landing and piloted all the way up to at least Sugar Point, maybe further.
The Dam Bay, still mostly covered by slush is opening fast and there are gigantic cracks in what's left of the ice in Tamarack Bay. Cutfoot Sioux is lagging behind a bit, but even here the ice will be gone before this weekend.
Now that we know for sure that there will be open water when you get here, it's time to focus on where to fish on opening weekend.
Always popular on the opener, Cutfoot Sioux will be even more so this spring. Walleye, particularly the coveted "keeper size" male fish will linger near shallow spawning territory. Female walleye tend to arrive fast, spawn fast and move away from the spawn sites quickly. Even taking the late ice out into consideration, most of the larger female walleye will already be in a "post spawn" condition by the opener. It's likely that they will no longer be located at the actual spawn sites.
As they recover from spawning, female fish will begin migrating toward the main lake. The fish will be passing through Cutfoot along some of the well-known breaklines that are located adjacent to the gap. Typical of a late ice out season, it is likely that anglers will encounter numbers of these larger females in the gap as they migrate. If you're looking for eating size fish, this will not be the area to find them.
Smaller, eater size fish are primarily males and their travel pattern does not align with the larger females. That's because the male fish will linger at the spawn sites hoping that they'll be on hand whenever a small group of late spawning females will arrive. The male fish will remain in these shallow spawning areas until all of the females are gone and the urge to feed overshadows the urge to spawn.
Stretches of shoreline that feature good aeration from current flow and contain gravel or small rocks will be important locations. Depending on the weather conditions, fish could be located very shallow during this period. Cloudy skies and breezy conditions would enhance the odds of a good, shallow water bite. Under sunny skies, fish will move away from the shallows and stack up along the first steep breakline that lays adjacent to shore. Typical depths for locating walleyes along the steeper breaklines will be 12 to 18 feet.
Jig and minnow fishing is and always has been popular on both Winnie and Cutfoot. However, popular presentations like drifting and back-trolling could be overshadowed by more stealthy presentations. In clear water, adaptable anglers have reported to us that they do better by casting their jigs away from the boat and working fish that haven't already seen them. It's a solid game plan and we definitely suggest giving it a try.
We'll dive deeper into the fishing strategies as we see how the weather develops. For now, our focus is on preparing the grounds and the marina in time for your arrival. Rest assured, we'll be ready when you get here!
---
WCCO "Who's the Best Fishing Guide Poll" May 2, 2018
Did you know that a friend of ours is on the short list in the final stretch of WCCO's "Who's the Best Fishing Guide Poll?" That's right; Jeff Sundin must be having a lucky week because he's still on the list and still in contention.
Some of you may have already "liked", "shared" or voted in one of WCCO TV's Facebook posts but that was only a preliminary process to pare down to the short list of names for the official vote. The official vote can only be found on the WCCO website.
We're not sure when the voting will actually be over, but we'd sure like to see our local boy win it. So here's the link that allows you to vote in the official poll at the official WCCO website >> WCCO who's The Best Fishing Guide Poll
---
Bowen Lodge April 27, 2018 "Lake Winnibigoshish and Cutfoot Sioux Fishing Outlook For 2018"
Anticipation, under most circumstances is fun, like when you're thinking about happy times that lay ahead. Sometimes though, even anticipating happy times can border on being a form of torture!
We've been watching the ice melt inch by inch and it's had us sitting on pins and needles. Like many, we've wondered if the ice-out would occur in time for the fishing opener and recently, we're catching a lucky break. Now, just at the right time, Mother Nature is delivering the weather we need.
The ice is receding and the forecast for the next week has helped bolster our confidence. We are relatively certain that both Cutfoot Sioux and Lake Winnie will provide our guests with open water for the opening of the 2018 Minnesota Walleye Season.
As of April 26, 2018, the ice on Little Cutfoot is receding and there is open water at the Mosomo campground that stretches southward past the steel posts where the DNR sets up the walleye egg harvest operation. Open water at the landing on the south shore of Little Cutfoot is surrounded by soft ice and on Thursday, the wind forced that ice to pulsate like a rolling wave.
That rolling action means that the ice has "candled" and is no longer rigid enough to remain stationary during a strong wind and that Little Cutfoot is likely to be ice free in the very near future.
The late ice melt may not allow us a ton of extra time to prepare the marina and the grounds for the upcoming fishing opener. But we do feel optimistic that all systems are green for go and that the resort will be ready for the fishing opener.
Overall, the fishing forecast for Lake Winnibigoshish is a good one, especially for versatile anglers who take advantage of opportunity when it comes along.
Like you, we would definitely like to see a strengthening of Lake Winnie's Walleye population. That said populations of catchable walleyes remain stronger than many realize.
A testament to this was the fantastic walleye fishing that occurred on Winnie during the past winter. Anglers enjoyed some of the most consistent winter fishing action that they've experienced in many years. In fact, ice fishing for walleye exceeded the expectations of many anglers who tried it this winter.
It was primarily fish from the 2013 year class, the most recent strong year class of catchable size walleye provided anglers with the lion's share of that action.
The term "year class" refers to walleye recruitment; the spawning, hatching and survival of young walleyes that go on to survive as catchable fish. Year class strength varies from year to year and the most recent really strong year class occurred in 2013.
Ironically, the very strong year class of walleyes that Winnibigoshish produced in 2013 occurred during a late spring, not unlike the one we are experiencing right now.
Through analysis of test data, the Grand Rapids area fisheries staff believes that there is a likely correlation between a late spring and a strong year class of walleye. It's unclear whether the link has more to do with water levels, which could tend to be higher during a late ice out, or whether timing of the spawn plays a larger role. If walleye eggs hatch closer to the summer, warm water period, food may be more plentiful and help contribute to better survival rates.
Either way, we know that there's room for a much stronger year class to emerge and a robust hatch of fish would be fabulous news! We obviously have our fingers crossed in the hope that their theory is correct. It won't be long now before we have an opportunity to test the theory.
With the goal of encouraging a stronger year class during 2017, DNR fisheries staff introduced via stocking, a larger number of walleye fry into Cutfoot Sioux. Additionally, walleye fry were also stocked into Lake Winnibigoshish for the first time ever. The fry were distributed evenly around the outer edges of both lakes and it is hoped that additional stocking will help bolster natural reproduction and help round out the 2017 year class.
Fish from the 2017 year class will be of little significance to anglers for 2018 and 2019. But the growth rate for walleye in Winnie is phenomenal and assuming a good survival rate, fish from the 2017 year class could easily begin showing up in angler creels as soon as 2020.
No matter where the fish come from or when they mature, they will behave differently than Winnie walleyes did in the "old days". Knowing when and where to pursue walleyes will be the key to success this summer and in the future. Over time, many of our guests have made adjustments to compensate for clearing water conditions and as they do, they become more successful.
Early risers have an advantage. These days walleyes move earlier, feeding in the morning, before sunlight invades their preferred feeding territories.
Mid-lake anglers have an advantage; more walleyes now use deeper portions of the water column and have become prone to suspending over deep, soft bottom habitats.
Stealthy anglers have an advantage; casting, pitching, slip-floating and other presentations that allow folks to fish further away from the boat will allow more consistent catches.
We expect Northern Pike fishing to be awesome again this season as it was in 2017.
With pike populations continuing to climb, emphasis on harvesting smaller fish for the dinner table will remain high on our list of priorities. The introduction of a the new 10 Fish Northern Pike Limit in the north central harvest zone will be a boon for anglers who want to harvest and eat fish.
In fact, we've introduced our first video that focuses on catching, filleting and cooking some of these excellent eating size pike. Watch the video now and prepare yourself for some fantastic table fare in 2018. >> Outdoor Bound TV Lake Winnie Pike Fishing
Perch populations are incredibly strong in Winnie right now too. In 2017, perch fishing provided hour upon hour of fast action for anglers. Reports of huge schools roaming flats spanning for a mile of more were not uncommon. Size structure continues to improve as these fish mature and anglers can expect to find good numbers of fish ranging from 9 to 11 inches, with larger specimens available.
There are a lot of good reasons to stick with Winnie. This incredibly resilient lake continues to provide opportunity for anglers, especially ones who know when and where to take advantage of opportunity. We want our guests to be successful and we'll do our best to help. Seasonally, we'll be providing updated fishing reports to help our guests dial in on specific patterns and presentations as they occur.
Before we run out of space, let's talk about some exciting changes for the resort.
The appearance of our son Jens and his soon to be lovely wife Ashley has been a real blessing. Jens is personable, sincere and hardworking and Ashley is vibrant, happy and fun loving. We were all amazed at how Ashley walked into the resort last summer, adapted instantly and became part of the family. We could not be more thrilled to have both of them here and we're sure that you'll agree. They are a really fine addition to the operation and a real breath of fresh air to be around.
They'll be introducing fresh features like a wood-fired pizza oven and an assortment of craft beers into the lodge this summer. It's a little early to provide details, but we'll be providing updates as they become available.
We're making additions at the marina this summer too. Three new Lund Rebels powered by 60 HP Mercury engines will be available for rent this season. Two of the new rigs will feature tiller engines and the 3rd will be steering wheel operated. New Humminbird electronics will help you get to your spot and on the fish.  
We want to be the highlight of your Minnesota fishing trip and we're anxious to show you around the resort. Be sure to check in frequently for updates about fishing and news from Bowen Lodge.
---
Bowen Lodge on Lake Winnibigoshish and Cutfoot Sioux - Your Hosts Bill & Gail Heig
58485 Bowen's Rd., Deer River, MN 56636 Email Sign Up For The Bowen Times Newsletter Toll Free 1-800-331-8925 Like Us

Copyright©2018 All Rights Reserved Bowen Lodge • Report A Problem EMAIL